Austria

People demonstrate during a public summer party calling on authorities to switch off atomic power plants in front of the International Center where the International Atomic Energy Agency, IAEA, has it's headquarters in Vienna, Austria, Saturday, April 9, 2011. Poster at right reads: Finally Switch Off. Poster at left: Nuclear Power, Booh. (Ronald Zak)
Brazil

People holding hands march during an anti nuclear protest at Leblon beach in Rio de Janeiro, Brazil, Sunday March 27, 2011. (Felipe Dana)
Britain

Peace protestor Nina Carter-Brown, 26, passes a line of police during a protest outside the Atomic Weapons Establishment at Aldermaston, England, Monday Feb. 15, 2010, where warheads for Britain's submarine-based Trident missiles are made. According to the organizers, hundreds of people took part in the protest, including two Nobel Peace Prize winners - Jody Williams, who led a campaign to ban land mines, and Mairead Maguire, who led a campaign to end violence in Northern Ireland.(Barry)
Bulgaria

Demonstrators take part in an anti nuclear protest in Sofia, Saturday, March 19, 2011. The protesters gathered to demand the shutdown of Bulgarian nuclear power station and suspension of the plans for construction of a new power plant in Belene, Bulgaria. The poster reads BeleNE (No to Belene nuclear power plant). (Valentina Petrova)
Cyprus

Greek Cypriot and Turkish Cypriot environmental activists wearing masks and white overalls protest against Turkey's plans to build a nuclear power plant on its southern coast during a demonstration in the divided island's capital Nicosia, on Saturday, March 19, 2011. Environmentalists say the site where the proposed plant will be built sits near an seismic fault line and could pose a danger to Cyprus 100 kilometers (62 miles) away as well as other neighboring countries.(Philippos Chris)
France

A demonstrator wears a gas during an anti-nuclear protest in Paris, Sunday March 20, 2011. Fueled by the nuclear crisis unfolding in Japan following the country's earthquake, demonstrators are demanding that France end its dependence on nuclear power. (Thibault Camus)
Germany

Anti nuclear demonstrators march in Cologne, western Germany Saturday March 26, 2011 to protest against nuclear power. Poster in front reads: Fukushima warns: Pull the Plug on all Nuclear Power Plants. White banner behind reads : 'Solidarity with the people in Japan'. Some 200,000 people turned out in Germany's largest cities on Saturday to protest against the use of nuclear power in the wake of Japan's Fukushima reactor disaster, police and organizers said.
India

An Indian protester belonging to the Anti-Nuclear Struggles Solidarity Forum holds a photo of the 1986 Chernobyl nuclear disaster during anti-nuclear protest, in New Delhi, India, Friday, March 25, 2011. Nearly 100 protesters marched to India's parliament on Friday demanding that the government give up plans to set up a large number of nuclear power reactors, underscoring the nuclear crisis in Japan. (Manish Swarup)
Indonesia

An Indonesian environmental activist holds a portrait of a victim of the Chernobyl nuclear disaster during an anti-nuclear protest marking its 24th anniversary outside The Ministry of Energy and Mineral Resources in Jakarta, Indonesia, Monday, April 26, 2010. (Dita Alangkara)
Israel

Greenpeace activists place a huge banner on a light rail bridge at the entrance to Jerusalem, Sunday, Jan. 16, 2011. Greenpeace activists protested Sunday against the country's plans to build a new coal-fueled power plant in southern Israel. (Sebastian Scheiner)
Italy

A giant Greenpeace banner reading in English and Italian "Stop nuclear madness'' is unrolled from the "Squared Colosseum", also known as the Palazzo della Civilta' Italiana (Palace of the Italian Civilization), reflected in a lake, in Rome's EUR district, Tuesday, Jan. 19, 2010. As the sun rose Tuesday over the fascist dictator Benito Mussolini's palace, four members of the pro-environment group used ropes to reach the top in a protest against the possible construction of nuclear power plants.
Japan

Protesters hold placards against nuclear power plant as they took to the streets in a rally against nuclear power and its development, in Tokyo, on Sunday, April 10, 2011, after a devastative earthquake and tsunami crippled the Fukushima Daiichi nuclear complex in northeastern Japan last month. (Itsuo Inouye)
Malaysia

Protesters hold a banner during an anti-nuclear protest in Port Klang, outside Kuala Lumpur, Malaysia, Sunday, April 3, 2011. Some 30 protesters joined an anti-nuclear protest on Sunday, calling for the government to drop plan to build two nuclear power plants by 2022. The red words at the bottom read "Caution! Radiation effects." (Lai Seng Sin)
Mexico

A Greenpeace activist hangs in back of an anti-nuclear sign in front of Mexico's Energy Secretariat (Sener) during a protest in Mexico City, Thursday March 31, 2011. The sign reads in Spanish, "Nuclear? No, Thanks!" (Alexandre Meneghini)
Philippines

Tribal Filipinos and environmental activists burn a caricature of Philippine President Benigno Aquino III during a rally near the Presidential Palace in Manila, Philippines, Thursday, March 3, 2011, to coincide with the 16th anniversary of the Mining Act of 1995 which liberalized the country's mining industry and allegedly allowed 100-percent ownership by foreign corporations of mineral lands and mining operations.
Russia

Several members of liberal Yabloko party hold a poster, showing a map with a route of nuclear waste from Germany to Russian Urals Mountains, as they picket at the Germany Embassy in Moscow on Tuesday, Aug. 24, 2010. Protesters demanded a ban on nuclear waste transfer from Germany to Russia for an utilization. (Sergey Ponomarev)
South Korea

South Korean environmentalists stage a protest aboard a boat calling for the closure of the outdated Wolsung reactor and opposing the construction of a new reactor on seas off Wolsung Nuclear Power Plant in Gyeongju, South Korea, Wednesday, March 23, 2011. Fears over possible radiation contamination are growing in South Korea, the country closest to Japan, after Japanese nuclear power plants were damaged by the March 11 earthquake and tsunami.(Yonhap, Lee Sung-hyung) KOREA OUT
Spain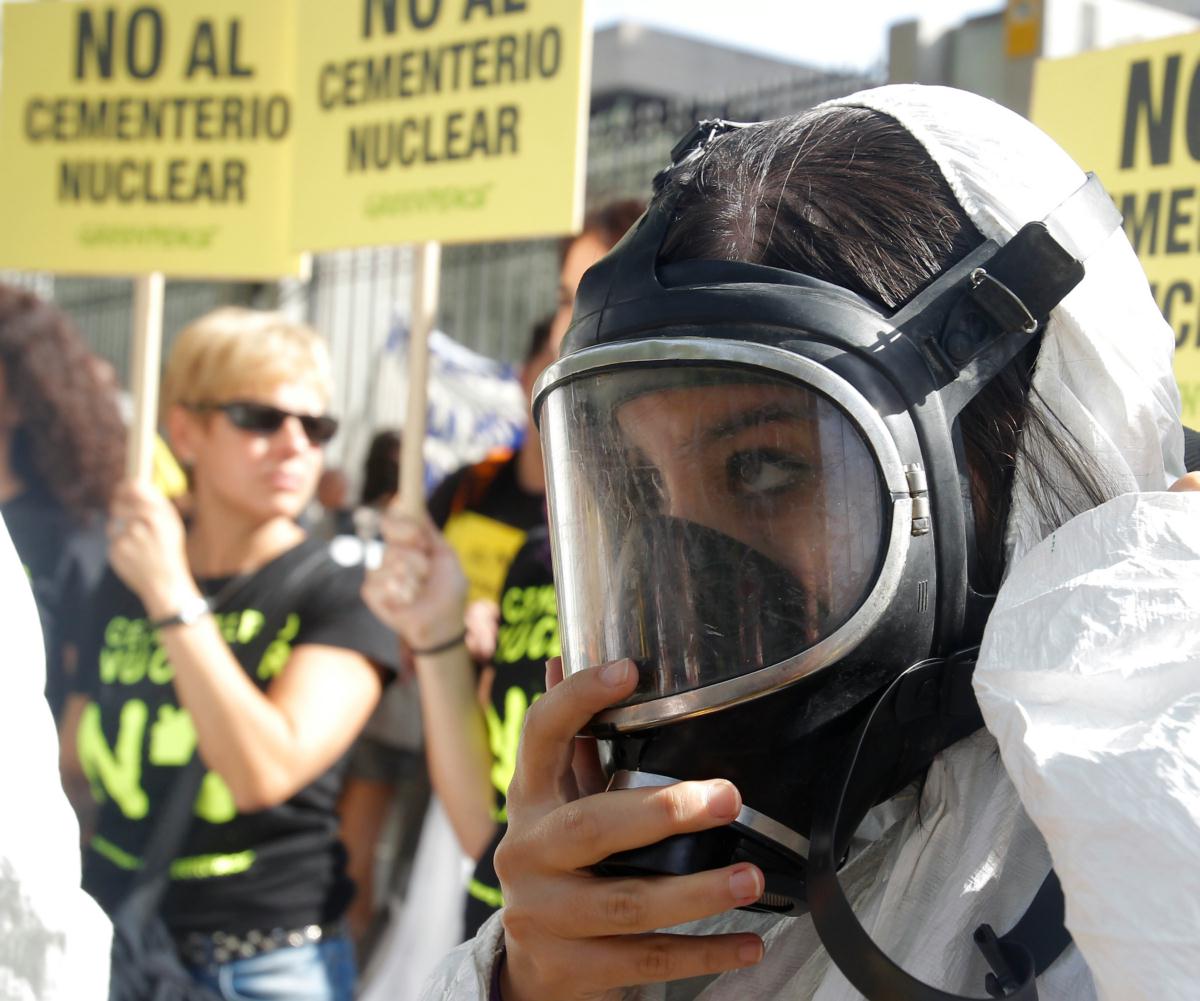 A Greenpeace protester adjusts her gas mask outside Spain's Industry Ministry in Madrid Wednesday Sept. 22, 2010 against a planned nuclear dump. Various Spanish towns have volunteered to host a nuclear waste dump that is becoming a hot potato for the government. Spain has eight nuclear reactors that provide 19 percent of the country's electricity. Banners read 'No to the Nuclear cemetery' (Paul White)
Sweden

A policeman apprehends a Greenpeace activist after he was prevented from entering the Forsmark nuclear power plant, North of Stockhollm, Monday, June 14, 2010. Police say they arrested around 50 activists after they entered a power plant in central Sweden as part of a Greenpeace protest against the use of nuclear energy. Greenpeace says the activists were staging a protest Monday against government plans to allow new nuclear power stations to be built in Sweden.(Bertil Ericson)
Switzerland

People demonstrate against nuclear power plants, in Geneva, Switzerland, Saturday, March 26, 2011. The demonstration is in reaction to the nuclear power plant destruction after the recent earthquake followed by a tsunami in Japan. (Martial Trezzini)
Taiwan

A Taiwanese, wearing a headband with Chinese characters (reversed) that read, "Anti-nuclear, Save Taiwan," holds a lily and prays for victims of last Friday's earthquake and tsunami in Japan during a protest for antinuclear in front of the Executive Yuan, Thursday, March 17, 2011, in Taipei, Taiwan.(Chiang Ying-ying)
Turkey

A woman walks past Greenpeace activists as they display symbolic mock-ups of traditional Russian matryoshka dolls with the image of Russian Prime Prime Minister Vladimir Putin, during their protest in Ankara, Turkey Thursday, Aug. 6, 2009. The activists gathered to protest against Putin's offer to help Turkey build nuclear power plants, hours before Putin is scheduled to arrive in Ankara. (Burhan Ozbilici)
United States

Demonstrators outside the federal courthouse in Tacoma pray before a sentencing hearing for the Rev.Bill Bichsel, of Tacoma; the Rev. Stephen Kelly of Oakland, Calif.; Lynne Greenwald of Tacoma; Sister Anne Montgomery of Redwood City, Calif.; and Susan Crane of Baltimore Monday, March 28, 2011. The five cut through fences in November 2009 to reach the weapons storage area at Naval Base Kitsap-Bangor where they put up banners, scattered sunflower seeds and prayed to protest submarine nuclear weapons